A few years ago, we were upgrading our house, and I fell in love with these modern cut glass doors that we installed. Because of the pattern of the glass, you can see shapes moving inside, so it's obvious if we are home. I was running late to leave for the office when the doorbell rang.
As missionaries, we called the Jehovah's Witnesses (JWs in English for short), the TJs (Testigos de Jehovah). Since they were also door-to-door proselytizers in a predominantly Catholic country, we felt like competitors, or at times comrades-at-arms. We were told they tithe in their time, giving 10% of their personal time to proselyting. I'm not normally home during the day, but I have run into them a few times as I've been leaving the house.
I opened the door to greet the two women, both just slightly older than me (I'd guess in their mid-fifties or well-kept early sixties maybe). One of the women introduced herself as Patty and her companion as Linda. Patty was clearly the senior, and a lot of this door approach was her modeling for Linda what to say and how to engage. I was a trainer three times, so I recognized the social cues. She asked if I knew about God's love for me. I replied that we were (pause to remember not to say Mormons) "members of the Church of Jesus Christ of Latter-day Saints." She smiled broadly and rejoined, "That's great! So you do know about God's love already. Can we share a scripture with you?" (I recognized her "yes and" approach, followed by a pivot to her own message).
She used her smart phone to locate Matthew 10: 29-31 which she asked me to read after enthusiastically remarking about the advances of technology and having the Bible on her phone. She asked if we also read our scriptures on our phones now, and I agreed that we did.
Are not two sparrows sold for a farthing? and one of them shall not fall on the ground without your Father. But the very hairs of your head are all numbered. Fear ye not therefore, ye are of more value than many sparrows.
This is a funny scripture to me. It's one my mother read to me when I was growing up. I don't recall hearing it used much at church, though, except maybe in passing. We never used it in a door approach. There were a few things that always struck me about this passage when I was a child:
Were there a lot of birds just falling dead out of the sky at some time in the past? Why? What happened to them?
Why would God or anyone bother to number the hairs on our heads? What possible value is there in that information? If God truly loves us isn't it more important that he knows us, not just weird facts about us? Does he also know the numbers of hairs on our arms and other places? Is he just really into hair?
How many sparrows (worth apparently half a farthing each) is a human worth? "Many" sounds like a finite number of sparrows. What is the trade value from sparrows to humans?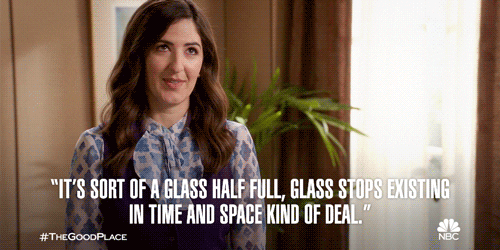 Even now, I often think in the morning when I pull the hair from my hairbrush, "They'd better update that count." This verse makes God seem more like Janet in the Good Place, a computer-like "person" who can render any fact anyone could want to know, like a personified Google. But how does it really demonstrate care and love for us as individuals?
Which is basically what she asked next while I was standing there thinking these thoughts.
"Well, I mean we all lose hair all the time. I guess it reminds us frequently that God pays attention to the details and seemingly trivial things." I'm not sure this was the right answer or not. She smiled and laughed in a friendly manner about the loss of hair as she looked at Linda, pretending she was involved in this conversation even though she had said nothing to this point. Then she switched abruptly to asking if I wanted a copy of Watchtower, pointing out that many people found it lying around a picked it up, finding inspiration when they needed it. I like that idea, although it always reminds me of "Bible dipping" from the book Running with Scissors, but that's a staple of many people's religious lives–of all denominations.
Bibliomancy: foretelling the future by interpreting a randomly chosen passage from a book, especially the Bible.
For some reason, just seeing Watchtower magazine makes me feel sick to the stomach. My conditioning against it runs deep from early programming, a disdain I developed at too young an age to remember its source. It's the same feeling I had when I saw an anti-Mormon brochure tucked inside a Book of Mormon in the motel lobby I worked in when I was 19. My mission partly erased that dread of other religions' pamphlets and books because the work can be so hard that it's impossible not to feel kinship with others who are sharing their faith with the public. I have leafed through Watchtower once or twice over the years, and honestly, religious magazines just aren't my jam. They seem cheesy and overconfident in their worldview, and when it's a worldview you don't share, it makes it seem even more cheesy.  The Watchtower has gotten smaller and thinner over the years. I politely declined the magazine, but I wondered if seeing the Book of Mormon creates a similar feeling for some people.
We often changed our door approach to something more general and inspirational when we weren't having success, to emphasize our commonality with others, and I always felt good about the idea that you are leaving someone with a positive idea or concept to ponder, something that might inspire them that day or that week. I took her message in that same spirit. I still think that's a weird scripture, not one that particularly makes a lot of sense to me, but it's one that I have been thinking about my whole life because I encountered it early. To me, it's more about scrupulosity than God's love, but maybe that's what God's love looks like to some. How can you prove a thing like God's love? You can't. You can feel it or not, no matter how many birds drop down dead. To me, it's like being in a good mood, feeling sunshine beating down on me, seeing a clear path ahead of me.
What I've really been thinking about since this encounter, though, is Patty. I saw so much of me in her. I've been in her exact position, doing the same things, talking in the same way, setting an example for someone junior to me, revising my approach in the same manner, doing what I felt would better the lives of others. I don't think it made me feel God's love that we read that scripture. But I'm glad I talked with her, that I got to see myself through her, and maybe got to see how God sees us both.